Vortex Newsletter 2/24/2020
Happy Monday Vortex Nation!
We are in the last week before March, can you believe it? Check out whats happening this week at the school!

Buddy Month!
Last week before the end of Buddy Month! Grab your friend and bring them in for the BEST Martial Arts Classes!
Friends age 4-6 will come to Tiny Tornadoes at 5:30 PM
Friends age 7+ will come to Cyclones at 6:00 PM
Don't forget you get a cash prize referral bonus for those friends who love classes and sign up under you!
Community Spotlight:
Wooo! We are so excited to provide an interactive and fun Martial Arts Class to Barron Elementary! Sempai Natalie and Coach Mark  are in the community this week being the Barron Elementary PE Teacher for a day! If your child goes to Barron Elementary have them bring a Gi we would love to highlight your kiddos on stage!
Barron PE Teacher Pizza Party
Saturday, February 29th from 11:30 AM to 1:00 PM
S.W.A.T Outing:
Calling all SWAT Members! We will be having our SWAT outing on Saturday, March 7th! We will be working together and having a blast at MainEvent in Austin! We will be bowling, glow golfing, later tagging, arcade game playing, and muchhh more!
We meet at Vortex Pflugerville at 11:00 AM and be back at 4:45 PM! 
$25 per child for an all day access pass
RSVP at the front desk to reserve your child's spot!
SUMMER CAMP, ONLY 10 SPOTS LEFT
WOW! This it the LAST week to SAVE!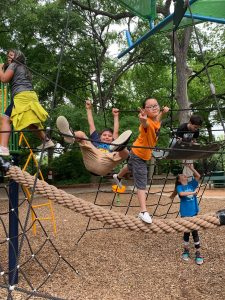 We are so excited for Summer, we have a great staff returning for another year! New dance routines, arts & crafts, cooler obstacle courses and much much more!
We are down to limited spots! Sign up before the end of the month to secure your savings!
February pricing starts at $159 to $169 Per Week for the Summer,  sign up today to lock in this rate!
AWESOME Schedule Update:
Parents! Check the attachment on this email to see some awesome updates to our Schedule for the Evening Martial Arts Classes! We are so excited to offer more leadership and training! Here are the specifics:
Sparring will be moved to A Days ONLY
Grappling will be on B Days ONLY
Time is extended on Grappling days and Leadership Class
See attachment for more details, should you have any questions please feel free to visit the front desk!
*HELP* Wanted:
Hey moms and Dads! We are on the search for a driver in the After School Program, do you already pick your child up from school? GET PAID to do it! Times are from 2:30 to 4:30 PM Monday through Friday. We love how incredibly helpful our families are in After School driving or referring someone they know, please see front desk for more details or email us back here!!!
(Must have Valid DL, Clean record, and Pass Vortex Driving Test)
Spectrum Launching Soon:
We are finally in the last stretch before our launch date! Spectrum Martial Arts Classes launch this Saturday with classes available for all ages. This program is limited to start out with only five spots available per class!
Know someone who would benefit from Martial Arts training and is on the spectrum? Refer them over to us for this wonderful new program!
Saturday, February 29th 10:00 AM to 10:45 PM
New member app is ready for Download!
Our new member app 4.0 is ready for download! If you've downloaded the previous app, You'll have to download the new one for the app update. See class credits, send messages, look over curriculum and more!
Here are the links to download:
https://apps.apple.com/us/app/vortex-sports-academy-pfluge/id1480852643
https://play.google.com/store/apps/details?id=com.sparkmembership.vortexapp
See you on the mats!